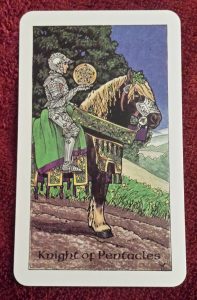 Today's draw is the Knight of Pentacles. A Knight in full armor sits astride a dark steed, holding a large golden pentacle. He looks out toward the journey ahead.
This knight can represent Ha mature man who is willing to be helpful to a cause. It also indicates the possibility of travel. I personally associate knights with a sort of questing energy, pursuit of a purpose, a boon. Pentacles also represents earth energy, which connects with structure, groundedness, stability. It also connects with growth, nurturing, wealth.
For me, personally, I am meeting someone after my time at the Museum today. They found me through someone who interviewed me on a podcast. The gentleman runs another museum. It's likely that he just likes to connect with those who has similar sensibilities when he travels. It's also possible that this connection could be helpful on my personal path and endeavors. Of course, it could be anybody that I encounter, so I need to be open to connections in general. Overall, this is a good card to see today.
Personal interpretation for me today: Expect an encounter with someone who understands something about my journey and is supportive of what I'm doing. Be open to connecting with people who show an interest, especially more mature men. Be open to the idea of travel if the opportunity presents itself..Today is a good day to think about my success goals and journeys I might take to achieve them.