When approaching reading the tarot a common exercise is called A Card A Day. A single card is drawn each day to contemplate. This takes the seeker through the cards a little less than five times in a year. This is a great way to learn the cards and to practice opening up to intuition.
I do one-card readings regularly for people. It's a great way to get a quick message and a single card can actually tell you a lot. Someone I know is going through this card-a-day exercise and I thought I'd join them. The last time I did it, there was not really a good way to share my thoughts and results. Now, with the web, people can see an example of this journey.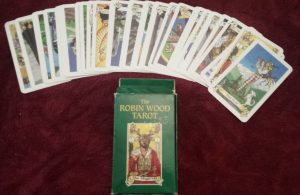 My preferred deck is the Robin Wood Tarot. Robin illustrated the covers of several of Scott Cunningham's books. It's colorful and joyful with some different takes on a few of the cards that connect strongly for me.
Each day I will draw a card and take its picture. I'll give my thoughts about the general meaning of the card and what I feel the card means for me in particular. Of course, when doing a reading one would always make the entire deck available and be OK with the same card coming up more than once. Here the deck will diminish as I go and I'll have fewer choices. So, some cards I draw may not have the strongest connection with my personal day, but part of the exercise is to consider what meaning a card can have for you, even if it's not obvious. One must be prepared to accept any card at any time.
Feel free to join along with your own deck, either drawing your own card and writing your own thoughts, or simply contemplating the card I draw by looking at the one from your own deck.
Let the journey begin!