What a pleasant card to find today! The High Priestess is a great energy. She is just what you would expect her to be. Connected with lunar energy, feminine energy, the high priestess is comfortable with the shadows. She is the wise-woman. She is witchiness. She brings healing and connection with nature.
For those of you that follow a magickal path, she is a familiar figure. You probably relate to her quite a bit. I have a number of people in my life that she reminds me of.
I find the High Priestess to be a joyful card. She is a sign that we can follow the wheel of the year, the seasons an celebrations and trust that the cycle continues, that we are a part of that cycle and in harmony with it all. We can let go a little bit with what the rules are and trust our own intuition and connection. We can feel our way through this.
For me this card connects on other levels. It reminds me of the wonderful books of Terry Pratchett and his Discworld witches. It may seem silly to think of humorous fiction when interpreting the tarot, but I find that humans are made of stories. Sometimes well-written fiction can teach us more lessons and real-life news. Pratchett's witches are practical, but appreciate people's need for wonder. If you've not read any of this you should immediately find the Tiffany Aching books and absorb all of the wisdom they have to share.
Through that lens, the High Priestess reminds me to embrace my witchiness and to accept myself as a powerful being who affects the universe not through exertion of will and formulae, but by placing myself in harmony. It's a very loving energy, where I connect with my own mothering nature. (Yes, guys, we have it too!)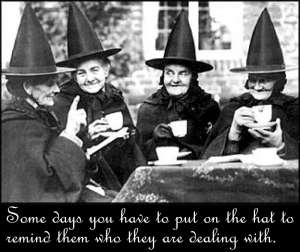 Again my schedule forced me to begin this article in the morning, but complete it as my day was ending. I kept it in mind throughout the day. I was tied to obligations today and not much of my own master. I did not have the chance to apply the nature of the High Priestess they way I would have liked. However, I could feel her presence.
A part of my connection is what I call Paranormal Entertainment. I explore games of intuition and the strange, odd, and unusual in a theatrical context. It's meant to be fun and not necessarily to be taken seriously. (If you are interested check out my other context at docravencraft.com.) However, even within this entertainment I end up making connections with people and they make genuine use of their own connection. People who genuinely want to go deeper tend to introduce themselves. Everyone else just has a good time.
Today I was offering this at the Museum of the Weird. It was a fairly relentless day and I had large groups back-to-back-to-back all day long with really no break at all in the action. This is demanding and exhausting. The blends of people can sometimes clash with each other and it becomes difficult to keep everyone having fun and make any meaningful connections. Today, however, while the demands of the day were significant, I did not have a single group where there was not a meaningful connection.
Also, I seemed to be projecting a little bit of an extra-witchy vibe today. Sometimes I will get people who are uncomfortable with thinking about the paranormal. Even with the intuition games they throw up their shields and I feel like they would thrust a crucifix at me if they had one handy. I try to respect it, though sometimes it comes across a little personally. Today, I got the Van Helsing treatment from three different groups, which is very unusual. I wasn't really doing anything differently than what I do day-in and day-out for hundreds of people. Yet today I seemed to be radiating a forbidden vibration. (In one case a woman had to leave in the middle and the rest of her family made a hasty retreat at the end of the tour.)
Was that the result of the High Priestess energy surrounding me today? I like to think so. I felt uplifted, even though the day was difficult. I was more in harmony with everyone and ended the day tired but not frustrated. I welcome this energy into my world and always look forward to another appearance of this wonderful card.